The global payment gateways market reached a value of US$ 20 Billion in 2020. The advent of near field communications (NFC) has simplified the bill payment process and eliminated the need for physical cards. This represents one of the major factors offering lucrative growth opportunities to leading players operating in the market. Additionally, a decline in ATM branches on account of the surging use of net banking is also driving the market. For instance, the United States experienced a drop of 0.9% in the total number of ATMs. As a result, numerous companies like Cayan, Wells Fargo and Chase Paymentech got involved in offering payment gateway services. Apart from this, with the boosting sales of smart devices and improving network bandwidth, there is an increase in the number of individuals shopping via online websites in India, the GCC and several Latin American countries. This, along with the burgeoning e-commerce sector, is strengthening the market growth. Furthermore, regions like Europe are witnessing a rapid increase in the emergence of new key players. Owing to these trends, IMARC Group expects the market to exhibit moderate growth during 2021-2026.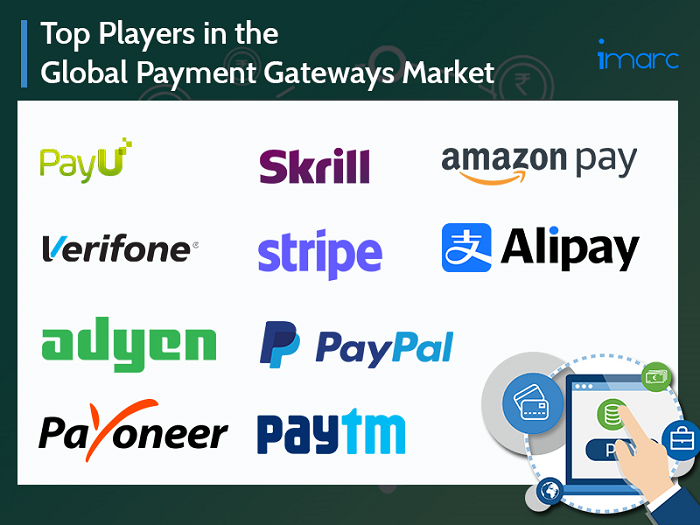 Request Free Sample Report: https://www.imarcgroup.com/payment-gateways-market/requestsample
List of Top Companies and Provides in the Payment Gateways Industry:
Amazon Payments, Inc.
Establishment: 2007
Headquarters: Washington, United States
Website: http://www.pay.amazon.com/
Amazon Payments, Inc. is one of the leading payment processing services companies. The firm offers services to shoppers and businesses, including small to medium enterprises, large enterprises, non-profit organizations, and partners. It presently operates in 18 countries, including Cyprus, Austria, and India.
PayU Global B.V.
Establishment: 2006
Headquarters: Netherlands
Website: https://www.payu.in/
PayU Global B.V is a subsidiary company of Naspers Group with a $25 Billion internet and media conglomerate listed on London and Johannesburg stock exchanges. The company provides services in 18 countries, including Poland, Brazil, and Chile. It is also engaged in offering products, such as payment buttons, platform plugins, payments on MS Excel, Plug n Play SDK, web checkout and payouts.
Payoneer Inc.
Establishment: 2005
Headquarters: New York, United States
Website: https://www.payoneer.com/
Payoneer Inc. helps businesses and professionals from more than 200 countries to grow worldwide and provide cross-border payments. It offers services to end users of different backgrounds, such as freelancers, e-commerce, and online advertising. It mainly provides solutions in both emerging and developed markets.
Paypal Holdings, Inc.
Establishment: 1998
Headquarters: California, United States
Website: https://www.paypal.com/
PayPal Holdings, Inc. is a technology platform that enables consumers and merchants to complete digital and mobile payments. The company's payment solutions are PayPal, PayPal Credit, Braintree, Venmo, Xoom and Paydiant. It allows its customers to utilize their accounts for both purchasing and paying for goods and transferring and withdrawing funds. It also enables them to exchange funds with merchants using funding sources, which include bank account, PayPal account balance, PayPal Credit account, credit and debit card or other stored value products.
Skrill Limited
Establishment: 2001
Headquarters: London, United Kingdom
Website: https://www.skrill.com/
Skrill Limited offers online payments, digital wallet recharge, direct payment processing, currency services, and money transfers. The firm delivers customizable payment solutions to clients in the United Kingdom. It is also one of the leaders in global payment solutions for business, depositing funds on gaming sites, buying online, or sending money. It also caters to the needs of businesses worldwide, thereby helping them build a global customer base and drive growth.
Alipay
Establishment: 2004
Headquarters: Hangzhou, China
Website: https://intl.alipay.com/
Alipay primarily operates as a third-party payment platform. The company offers account transfer, payment, repayment, small amount loans, money management, and other services. It mainly conducts its business in China.
Stripe, Inc.
Establishment: 2009
Headquarters: Dublin, Ireland
Website: https://stripe.com/
Stripe, Inc. offers payment software services and solutions. The company designs software for processing online credit and debit card payments. It provides services to all major countries, such as Australia, Germany, and Austria, across the globe.
Paytm Mobile Solution Pvt. Ltd.
Establishment: 2009
Headquarters: Uttar Pradesh, India
Website: https://paytm.com/
Paytm Mobile Solution Pvt. Ltd., a subsidiary of One97 Communications, is one of the digital payment gateways and digital wallets in India, which offers a host of payment services to consumers and businesses. It provides payment services, such as mobile recharges, utility bill payments, movie tickets, bus, train, and flight tickets, loan payments, insurance, and forex. Consumers must link their bank accounts and credit cards to the application to enjoy seamless payments at various retail markets and online avenues. Apart from this, the company has recently launched a TAP to Pay Card, which relies on field communication (NFC) technology to make a contactless payment.
Verifone Systems, Inc.
Establishment: 1981
Headquarters: California, United States
Website: https://www.verifone.com/
Verifone Systems, Inc. manufactures hardware and software for conducting non-cash transactions at cash registers, gas pumps, on mobile devices, and other devices. The company also offers smart card and check readers, receipt printers, and internet commerce software for large chains and small businesses. Besides this, it provides installation, training, and other services worldwide. Its customers include companies in the hospitality, retail, and healthcare markets.
Adyen N.V.
Establishment: 2006
Headquarters: Amsterdam, Netherlands
Website: https://www.adyen.com/
Adyen N.V. has 21 offices in Berlin and Hong Kong, and it has obtained licenses for Singapore, Hong Kong, Australia, and New Zealand. The company also opened an office location in New York in 2017. It has launched its Terminal API and the product portfolio includes online payments, point of sales, platforms, and unified commerce.
About IMARC Group: IMARC Group is a leading market research and consulting company that offers management strategy and market research worldwide. The company has done multiple projects on the Asia Pacific and global payment gateways market, which has enabled the clients to set up and expand their businesses successfully. Some of the company's offerings include:
Market Research
Plant setup
Plant Expansion
Marketing and sales
Procurement and Distribution
Innovation and Product Development