The global thermal interface materials (TIM) market exhibited strong growth during 2015-2020. Thermal interface materials (TIM) play an important role in the efficiency of thermal management systems, wherein they are used for transmitting heat between solid surfaces. Some of the common TIMs include thermal tape, phase-change materials, heat spreaders, thermal pads, and gap-filler pads. The manufacturing process of these materials involves various steps starting with the formation of carbon nanotubes on a substrate, which are then submerged in a liquid macromolecular material. This material is then solidified and cut for obtaining the thermal interface material wherein carbon nanotubes are secured. These nanotubes are left open at both ends, which ensures that they can directly contact a heat sink and an electronic device, which further enhances the heat conducting efficiency of TIMs. Driven by the emerging needs of lower thermal impedance, lower costs, high thermal conductivity, and new applications, leading players across the globe are consistently evolving TMIs. For instance, they have recently introduced a new generation of polymer-based TIMs that utilize boron nitride nanosheet (BNNS) fillers for improving thermal conductivity. Another example includes the development of HSMF-OS by Indium Corporation, a US-based electronics assembly materials manufacturer. This material is a non-silicone-based polymer material, which was introduced in 2019 for test applications and high insertion capability. Looking forward, IMARC Group expects the market to grow at a CAGR of around 10% during 2021-2026.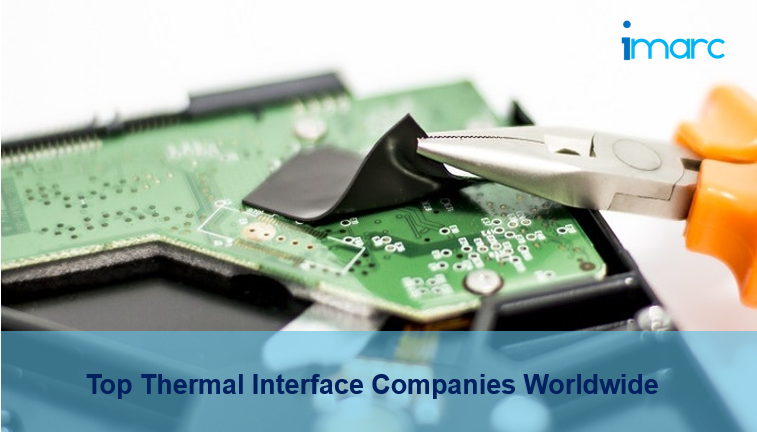 Request Free Sample Report: https://www.imarcgroup.com/thermal-interface-material-market/requestsample
Top Thermal Interface Materials (TIM) Manufacturers in the world:
3M Company
Established: 1968
Headquarter: United States
Website: www.3m.com
3M is a US-based company that mainly operates in the telecommunications, consumer, healthcare electronics, industrial, office, and safety sectors. The portfolio offered by the company consists of abrasives, adhesives and sealants, advanced materials, compounds and polishes, automotive parts and hardware, labels, communication components, electrical materials, electronics components and materials, films and sheeting, lab supplies and testing, medical items, coatings, dental and orthodontics, cleaning supplies, and insulation materials. Amongst these, 3M produces and supplies various TIMs across the globe, which include thermal interface, epoxies, pads and tapes.
Dow Inc.
Established: 1995
Headquarter: United States
Website: www.dow.com/en-us
Dow is primarily engaged in the manufacturing and distribution of chemical products for the architecture fabrication, textiles, food, liquid injection molding, leather, and automobile industries. The company offers varied products, including additives and modifiers, adhesives and sealants, amines and chelates, conductive materials, plastomers and elastomers, plastic additives, release coatings and agents, and various others. Through this portfolio, Dow serves different industries, such as infrastructure, consumer care, mobility, and packaging. It has been playing a significant role in the TIM industry. In 2020, the company introduced the Dowsil TC-4040 dispensable thermal pad, which is easily disposable, provides strong conductivity, and resists slumping.
Henkel AG & Co. KGaA
Established: 1876
Headquarter: Germany
Website: www.henkel.de
Henkel is one of the leading manufacturers and suppliers of industrial and consumer products. The company offers a vast product portfolio, which consists of sealants, hair cosmetics, oral care, body care products, additives, toilet care, insect control products, adhesives, functional coatings, hair salon products, skin care, laundry detergents, hard surface cleaners, and hair care. These commodities are marketed under various brand names, such as Persil, Pril, Dynamo, Schwarzkopf, Loctite, Bonderite, Purex, Dial, Bref, Syoss, and Technomelt. In the TIM industry, Henkel offers thermal gap fillers, thermal gap pad materials, thermal SIL pad materials, thermally conductive adhesives, phase change materials, thermally conductive grease, and thermal gel. In 2020, it launched Bergquist Gap Filler TGF 7000, which is liquid TIM. It integrates the speed of 18 grams per second with high thermal conductivity.
Honeywell International Inc.
Established: 1885
Headquarter: United States
Website: www.honeywell.com
Honeywell is a leading manufacturing and technology company that mainly operates through four segments, including performance materials and technologies, aerospace, safety and productivity solutions, and building technologies. It manufacturers and markets a wide range of thermal interface materials across the globe, phase change materials, thermal fap filler pads, thermal putty pads, thermal insulators, thermal grease, thermal one-part hybrids, and thermal two-part hybrids.
Indium Corporation
Established: 1934
Headquarter: United States
Website: www.indium.com
Indium is a multinational conglomerate that produces and supplies electronics assembly materials. It mainly operates in the refining, manufacturing, smelting, and marketing of its materials to electronics, thin-film, thermal management, and semiconductor markets. The company's product portfolio includes brazes, sputtering targets, inorganic compounds, solders and fluxes, thermal interface materials, and gallium, tin, indium, and germanium metal compounds.
Kitagawa Industries America Inc.
Established: 1990
Headquarter: United States
Website: www.kgs-ind.com
Kitagawa is one of the largest players in the thermal interface materials market. It primarily offers cable shielding materials, conductive gaskets, electromagnetic interference (EMI) suppression, and grounding fasteners. Other than these, it also offers thermal management components, optical fiber inspection equipment, and hardware and plastic fasteners for electronic packaging. In the segment of TIMs and thermal pads, the company produces and markets silicone-based thermal pads, silicone-free thermal pads, dual functioning thermal pads, and special TIMs.
Laird Technologies Inc.
Established: 1824
Headquarter: United States
Website: www.laird.com
Laird Technologies is mainly engaged in the manufacturing of EMI shielding materials, which include signal integrity components, wireless antennas, custom metal stampings, thermal management products, and radio frequency modules. Other than this, it produces and markets conductive tapes and metalized fabric. The company also offers product testing and engineering services, and consistently invest in the research, development and engineering of newer variants. In 2019, Laird Performance Materials introduced IceKap™ P30000, which is a high performance, silicone-free TIM.
Momentive Performance Materials Inc.
Established: 2006
Headquarter: United States
Website: www.momentive.com
Momentive Performance Materials largely deals in the production and marketing of silicones and advanced materials. Its product portfolio includes adhesives and sealants, antifoams, coatings, elastomers, plastic additives, thermal management materials, softeners, resins, hardcoats, demulsifiers and non-emulsifiers, water repellents, and encapsulants and gels. In the TIM industry, the company offers thermally conductive gap filler, thermal compounds, pastes, and greases, thermally conductive encapsulants, thermally conductive silicone adhesive, ultra-high thermally conductive gap fillers, and thermal management silicones for automotive and consumer electronics.
Parker-Hannifin Corporation
Established: 1918
Headquarter: United States
Website: www.parker.com
Parker is one of the leading producers of motion and control systems and technologies, and precision engineered solutions for industrial, aerospace, and mobile markets. The product portfolio of the company includes aerospace systems and technologies, air preparation (FRL) and dryers, cylinders and actuators, emi shielding, filters, separators and purifiers, fittings and quick couplings, gas generators, power take offs and drive systems, thermal and power management, and pumps. In the segment of thermal interface materials, Parker-Hannifin offers thermally conductive attachment tapes, cure-in-place potting and underfill materials, gels, greases, heat spreaders, pads, and phase change materials.
Zalman Tech Co. Ltd.
Established: 1999
Headquarter: South Korea
Website: www.zalman.com
Zalman of the leading players in the thermal interface materials market. It has been largely involved in the computer industry through the production and marketing of peripheral components and cooling systems for personal computers. Some of the main products offered by the company include cooling systems, storage devices, VGA cards, TV monitors, OEM products and audio products, cases, power supplies, keyboards, and mouse.
About IMARC Group: IMARC Group is a leading market research and consulting company that offers management strategy and market research worldwide. The company has done multiple projects on the thermal interface materials industry, which has enabled clients to set up and expand their businesses successfully. Some of the company's offerings include:
Market Research
Plant setup
Plant Expansion
Marketing and sales
Procurement and Distribution
Innovation and Product Development