The global plant-based meat market reached US$ 8.6 Billion in 2020. Looking forward, IMARC Group expects the market to grow at a CAGR of around 17% during 2021-2026. As per the analysis by IMARC Group, the top players in the plant-based meat market are introducing vegan meat products with better aroma, texture, longer shelf life, and high nutritional value. Several prominent food companies are also entering into strategic partnerships with vegan meat-producing start-ups for expanding their product portfolios, thereby leading to product premiumization.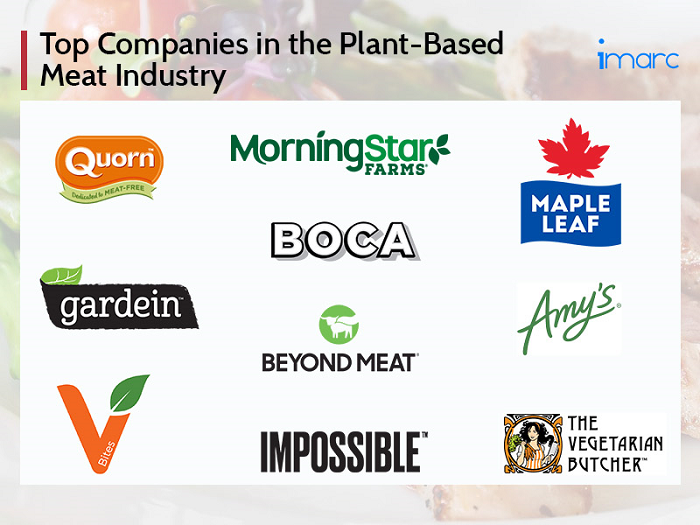 Request Free Sample Report: https://www.imarcgroup.com/plant-based-meat-market/requestsample
Top Companies in the Plant-Based Meat Industry:
Amy's Kitchen, Inc.
Establishment: 1987
Headquarter: Petaluma, California
A pioneer of the organic food movement, Amy's started over 30 years ago with a simple mission to make good food for everyone at the table. Their first product was a vegetable pot pie with a flaky, homestyle crust. Today, the company makes more than 250 products, such as beans and chili, dessert, pasta sauce, pizza, snacks, soups, veggie burgers, and sandwich rounds and sells its homestyle foods in over 23 different countries. Amy's employs over 2,700 people with manufacturing facilities in Santa Rosa, CA; Medford, OR; and Pocatello, ID.
Beyond Meat
Establishment: 2009
Headquarter: El Segundo, California
Beyond Meat is a Los Angeles-based producer of plant-based meat substitutes. Its products offer greater or equal protein levels than their animal counterparts, no cholesterol, less saturated fat, and no antibiotics or hormones. By shifting from animal to plant-based meat, the company's mission is to positively impact four growing global issues: human health, climate change, constraints on natural resources and animal welfare.
Boca Foods Company (Kraft Foods, Inc.)
Establishment: 1979
Headquarter: Chicago, Illinois
Boca Burger, Inc. is a privately held manufacturer and marketer of soy-based meat alternatives. It is a subsidiary of Kraft Foods and makes frozen low-fat meatless products that focus on protein, fiber, and calcium. Its menu includes burgers, breakfast links, ground meatless crumbles, meat-free lasagna and chili and breaded faux chicken nuggets and patties. Boca Foods also offers soy-based food products (using organic and non-organic soy protein) to provide consumers with the needed protein generally found in meat products.
Gardein Protein International, Inc. (Conagra Brands, Inc.)
Establishment: 2003
Headquarter: Richmond, BC, Canada
Gardein Protein International, Inc., a brand of Conagra Brands, Inc. is answering the growing demand for plant-based food by expanding its line of meat-free dishes, including new items that feature pea protein and wheat flour. It offers various products under the leading brands like Slim jim, Gardein, Duncan Hines, Healthy Choice, Marie Callender's, Birds Eye and Frontera. Gardein's offers a wide variety of delicious plant-based meat alternatives for chicken, beef, pork, fish and seafood. It has also expanded its flavorful and convenient breakfast offerings with two new on-trend items, namely Shakshuka Breakfast Bowl and Saus'age Benny Breakfast Bowl, which is a vegan version of an Eggs Benedict.
Impossible Foods, Inc.
Establishment: 2011
Headquarter: Redwood City, California
Impossible Foods, Inc., founded by Stanford University Professor Dr. Patrick O. Brown introduced vegan substitute of meat products to address the urgent problem of climate change. He wanted to make the global food system sustainable by creating meat, fish and dairy from plants, which have a much lower carbon footprint than meat, fish and dairy from animals. The company with a team of top scientists analyzed meat at the molecular level and determine precisely why it smells, handles, cooks and tastes the way it does. Moreover, they have developed a world-class archive of proprietary research and technology to recreate the entire sensory experience of meat, dairy and fish using plants.
Maple Leaf Foods
Establishment: 1927
Headquarter: Mississauga, Canada
Maple Leaf Foods is a leading consumer protein company in Canada. It was created through the merger of Maple Leaf Mills Limited and Canada Packers Inc. The company is a producer of food products under a wide range of leading brands, including Maple Leaf, Schneiders, Swift, Prime, Expand Greenfield Natural Meat, Greenfield Natural Meat Co., Mina and Cappola. In 2019, Maple Leaf Foods announced plans to construct a US$310 million plant-based protein processing facility in Shelbyville, Indiana. It will also be the world's first major carbon-neutral food company and has set Science-Based Targets for emissions reduction.
MorningStar Farms (Kellogg Na Co.)
Establishment: 1975
Headquarter: Michigan, United States
Morningstar Farms is a division of the Kellogg Company that produces vegan and vegetarian food. Many of their offerings are plant-based variations of traditional meat products, including some that are vegan. It offers a wide range of products, ranging from burgers, breakfast, chicken to meal starts, veggitizers and incogmeato.
Quorn Foods
Establishment: 1985
Headquarter: Stokesley, United Kingdom
Quorn Foods is a pioneering food company that believes "we all need to change what we eat". With the growing burden of the obesity epidemic and accelerating climate crisis, the company has been providing delicious food that is healthy for both the planet and its people, with protein cultivated from non-animal sources since 1985, via its brands Quorn and Cauldron. Moreover, it' 2030 ambition is to be a net positive business that provides 8 billion servings of food every year, the equivalent of one serving for every person on planet Earth.
The Vegetarian Butcher (Unilever N.V./PLC)
Establishment: 2010
Headquarter: United Kingdom
Jaap Korteweg, a ninth-generation meat farmer and a real meat lover, became a vegetarian and founded The Vegetarian Butcher in 2007 to satiate his own need for quality meat, which was not produced from animals. The products made by The Vegetarian Butcher are being sold in over 4,000 outlets in 17 countries. In 2018, Unilever acquired The Vegetarian Butcher to expand its portfolio into plant-based foods that are healthier and have a lower environmental impact. The company offers vegetarian nomeatball, vegan nochicken chunks, vegetarian notuna, vegan nomince, vegetarian nobecan, vegan nochicken shawarma and croquette.
Vbites Food Limited
Establishment: 1993
Headquarter: Corby, United Kingdom
Founded as the Redwood Wholefood Company, VBites is the brainchild of campaigner Heather Mills and has grown to become the largest plant-based food manufactures in Europe. It has developed and perfected plant-based alternatives offering 140 products. Moreover, the company is a pioneering leader in the world of food technology, employing inventive means to continue to push the boundaries of what is possible in the world of food science, employing a huge team of passionate people.
About IMARC Group: IMARC Group is a leading market research and consulting company that offers management strategy and market research worldwide. The company has done multiple projects on the plant-based meat industry which has enabled clients to set up and expand their businesses successfully. Some of the company's offerings include:
Market Research
Plant setup
Plant Expansion
Marketing and sales
Procurement and Distribution
Innovation and Product Development