The global perfume market reached a value of US$ 32.8 Billion in 2020. Looking forward, the market is expected to grow at a CAGR of 6.15% during 2021-2026. As per the analysis by IMARC Group, the perfume industry is being revolutionised by the development of innovative fragrances from natural sources along with expensive online campaigning through social media. Companies are also investing in R&D to develop vegan perfumes, personalized fragrances, and fresh and green scents in order to attract a larger consumer base. In addition, the implementation of Artificial Intelligence technology in the perfume industry to develop new fragrances is expected to result into faster production and formation of undiscovered fragrances, thereby propelling the growth of the market.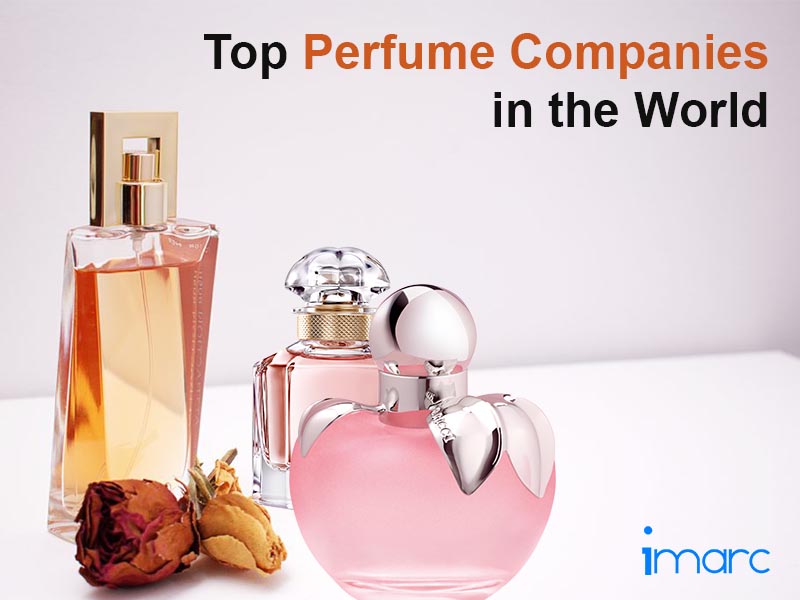 Get a PDF Sample for more detailed market insights: https://www.imarcgroup.com/perfume-manufacturing-plant/requestsample
List of Top Perfume Brands and Companies:
Avon Products Inc.
Establishment: 1886
Headquarter: London, United Kingdom
Website: https://www.avon.com
Avon Products Inc. manufactures beauty and skincare products and has its sales operations in 56 countries with a wide distribution network existing in approximately 70 countries. The company employed 23,000 employees worldwide and generated a total revenue of US$ 5.5 Billion in 2018. The company is operational in three categories of products: Beauty, Fashion and Home. Majorly, the products are sold to the end-user through direct-selling channels to customers instead of retail channels.
Chanel SA
Establishment: 1910
Headquarter: Paris, France
Website: https://www.chanel.com
Chanel S.A. is a luxury brand which offers high-fashion clothing, shoes, jewellery, cosmetics, makeup, fashion accessories and fragrances. The company reported an annual revenue of US$ 11 Billion in the year 2018, generating most of its revenue from Asia-Pacific and Europe. The company employed 25,000 people globally. The company sells its products through third party channels and operates its own sales network through company-owned retail stores worldwide.
Coty Inc.
Establishment: 1904
Headquarter: New York, United States
Website: https://www.coty.com
Coty Inc. is a multi-segment beauty company which manufactures and sells fragrances, color cosmetics, skin and body care products. The company operates in three business segments: Cot luxury, Cot consumer beauty, and Cot professional beauty. The company has acquired The Proctor & Gamble Company's beauty business, Hypermarcas S.A (a Brazilian personal care and beauty brand) and ghd (a premium hair-styling appliance brand). It reported an annual turnover of approximately US$ 9.4 Billion at the end of the year 2018 with an employee strength of over 20000 in 46 countries. The distribution network is spread across 150 countries and products are sold primarily in the mass retail channels.
L'Oréal SA
Establishment: 1909
Headquarter: Clichy, France
Website: https://www.loreal.com
Loreal is a cosmetics producer which has a global presence. The company reported an annual revenue of US$ 29.9 Billion in the year 2018. It owns a total number of 36 brands under four brand divisions, such as Loreal Luxe, Consumer product division, Professional products division and Active cosmetics division. Loreal had 505 patents registered in 2018 and it has its existence in 150 countries with 36,000 employees working worldwide.
LVMH
Establishment: 1854
Headquarter: Paris, France
Website: https://www.lvmh.com
LVHM is a leading luxury product brand whose major business segments include fashion and leather goods, perfumes and cosmetics, watches, jewellery, and wine and spirits. The company reported an annual revenue of approximately US$ 51.5 Billion and employee size of about 156,000 in 2018. The company has around 75 brands with a network of more than 4,590 retail stores across the globe.
Natura Cosméticos SA
Establishment: 1969
Headquarter: São Paulo, Brazil
Website: https://naturaeco.com
Natura Cosméticos is a leading personal care cosmetic company which produces a line of cosmetics, fragrances and personal hygiene products with its presence in 73 countries across the globe. In the year 2018, the company reported a total revenue of more than US$ 4 Billion, and total workforce was 18,000 employees. It majorly relies on direct-selling method for the distribution of its products. The company has 12 distribution centres, 45 e-commerce websites and around 20,000 consultants. The three major brands under this company are the Body Shop, Natura and Aesop.
About IMARC Group: IMARC Group is a leading market research and consulting company that offers management strategy and market research worldwide. The company has done multiple projects on the perfume industry and regional GCC, Kuwait, Saudi Arabia, UAE, North America which has enabled clients to set up and expand their businesses successfully.
Market Research
Plant setup
Plant Expansion
Marketing and sales
Procurement and Distribution
Innovation and Product Development