Unilever Group: Dominating Global Ice Cream Market Through Product Diversity
Ice cream refers to frozen dairy food products that are prepared using flavorings, milk and frozen cream. These ingredients are churned together to obtain a smooth consistency. Ice cream is an excellent source of energy and rich in carbohydrates, calcium, phosphorus and vitamins such as A, C, D, E, K, B-6 and B-12 as well as thiamine, riboflavin, niacin and folate. There is a wide variety of ice cream flavors available in the market, including chocolate, strawberry, vanilla, butterscotch and mango. It can be added to other foods and beverages such as milkshakes, smoothies and brownies to enhance the taste, texture and richness of these desserts. Owing to this, ice cream is gaining popularity among people of all age groups, especially the young generation.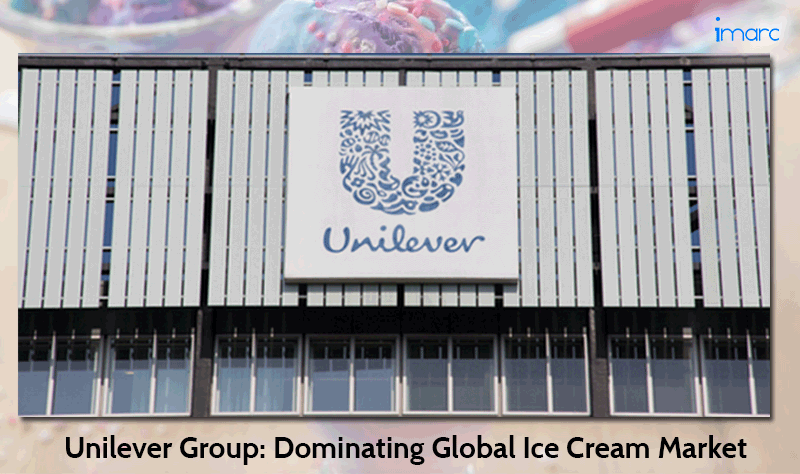 Ice cream consumption offers various health advantages such as providing energy, strengthening bones and lowering blood pressure. Furthermore, with the changing preferences of consumers, they have become more inclined towards healthy options and are willing to pay a higher price for premium ice cream products, which they believe to be made from fine-quality ingredients. As a result, leading companies have introduced innovative product variants such as organic, low-fat and sugar-free ice creams. They have also launched gluten- and lactose-free ice cream to expand their consumer base. Apart from launching unique ice cream variants, manufacturers are aggressively spending on advertisement campaigns as well as ice cream packaging in order to attract a larger customer base. The global ice cream market reached a value of US$ 68.0 Billion in 2021. Looking forward, IMARC Group expects the market to reach US$ 89.8 Billion by 2027, exhibiting at a CAGR of 4.92% during 2022-2027.
Download your Ice Cream Market Report Sample for FREE!: https://www.imarcgroup.com/ice-cream-market/requestsample
Unilever Group – The Market Leader
The Unilever Group was founded in 1930 and is a dual-listed company consisting of Unilever NV in Rotterdam and Unilever PLC in London. The Group produces edible and personal care and consumer goods, including ice creams, oils, mayonnaise, spreads, sauces, tea, laundry detergents, shampoos, soaps, fragrances, and body washes. Unilever serves customers worldwide with more than 400 brands and has business operations in around 100 countries. The company also owns various ice cream brands such as Magnum, Ben & Jerry's, Breyers, Cornetto, Talenti Carte D'Or, Solero and Vienetta.
Magnum Classic was the first hand-held ice cream which was launched in 1989. Since then, the brand has grown exponentially, selling more than a billion ice creams every year. Its range includes a wide variety of flavors, designed to entice the taste buds of people around the world. Good Humor is also a part of Unilever's Heart brand family of ice creams. They are sold in more than 40 countries across the globe under different local names, such as Wall's and Algida. Among its products are ice creams that are lower in fat and sugar and enriched with fruit and calcium, which have been developed through the brand's innovative and advanced technologies. In October 2018, the company launched a low-calorie, probiotic ice cream under the Culture Republick brand. Every pint of the ice cream contains around 400-500 calories, 11-12 grams of fiber, 16-18 grams of protein and 3 billion live probiotic bacteria.
Contact Us

IMARC Group
Tel no: +1-631-791-1145
Email: sales@imarcgroup.com
Website: https://www.imarcgroup.com