The global hand sanitizer market reached US$ 4.20 Billion in 2020. With the spread of coronavirus disease (COVID-19) in Wuhan city, hand sanitizers witness surging demand in China and then the rest of the world. As per the analysis by IMARC Group, the top hand sanitizer manufacturers are introducing hand sanitizers infused with floral and fruity fragrances, such as strawberry, green apple, litchi and orange, along with novel hands-free automatic sensor-based and foot-operated dispensers. Besides this, the rising consumer concerns about the negative health impact of chemical-based sanitizers have led to the growing popularity of organic products. Moreover, several product manufacturers are developing easy-to-use and portable foam and gel-based sanitizers in sachets and mini-bottles, driving the market for hand sanitizers worldwide.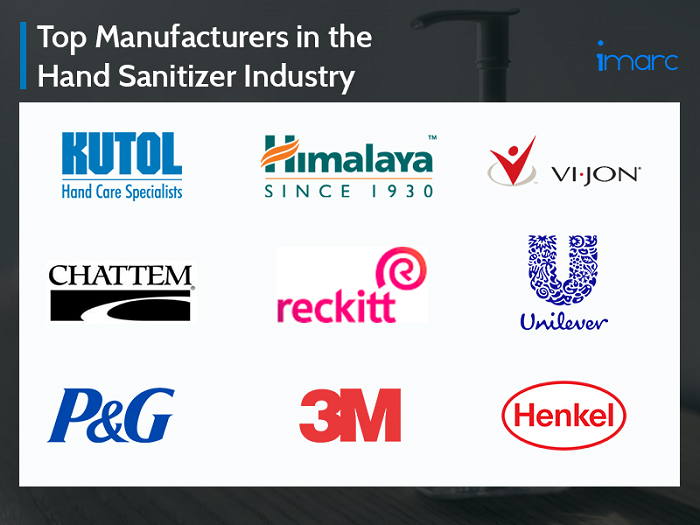 Request Free Sample Report: https://www.imarcgroup.com/hand-sanitizer-market/requestsample
Top Manufacturing Companies in the Hand Sanitizer Industry Worldwide:
Reckitt Benckiser Group PLC
Establishment: 1823
Headquarter: Slough, United Kingdom
Website: https://www.reckitt.com/
Reckitt Benckiser Group plc is a manufacturer and marketer of health, hygiene, post-natal and home products. The company's segments include ENA and DvM. The ENA segment consists of Europe, Russia/Commonwealth of Independent States (CIS), Israel, North America, Australia and New Zealand. The DvM segment consists of North Africa, the Middle East (excluding Israel) and Turkey, Africa, South Asia, North Asia, Latin America, Japan, Korea and the Association of Southeast Asian Nations (ASEAN). Its range of hygiene products includes disinfectants, cleaners, automatic dishwashing detergents, and pest control. The company's portfolio of brands includes Durex, Mucinex, Scholl, Strepsils, Cillit Bang, Clearasil, Dettol, Harpic, Lysol, Mortein, Veet, Air Wick, Calgon, Vanish and Woolite.
The Himalaya Drug Company
Establishment: 1930
Headquarter: Karnataka, India
Website: https://himalayawellness.in/
The Himalaya Drug Company is an Indian pharmaceutical company that develops safe, natural and innovative products for a healthier, happier life. The company combines the wisdom of traditional medicine with modern scientific research. Moreover, the scientists have studied more than 10,000 herbs and developed a range of over 300 products, ranging from wellness, nutrition and pharmaceutical to personal care, baby care and animal care. Moreover, with the onset of coronavirus disease (COVID-19) in India, the company witnessed a rapid spike in the production of hand sanitizer, hand wash, disinfectant spray and germ protection wipes.
Procter and Gamble Company
Establishment: 1837
Headquarter: Cincinnati, United States
Website: https://in.pg.com/
Procter & Gamble (P&G) operates through five segments: Beauty; Grooming; Health Care; Fabric & Home Care, and Baby, Feminine & Family Care. The company sells its products in approximately 180 countries and territories primarily through mass merchandisers, grocery stores, membership club stores, drug stores, department stores, distributors, baby stores, specialty beauty stores, e-commerce, high-frequency stores and pharmacies. Moreover, the increasing demand for hand sanitizers in the United States in early 2020 has resulted in product shortages and unavailability across both online and offline sales channels. This has prompted the company to expand its production capacities to meet the rising demand.
Henkel AG & Company, KGaA
Establishment: 1876
Headquarter: Düsseldorf, Germany
Website: https://www.henkel.in/
Henkel AG & Co KGaA is engaged in the consumer and industrial business. The company's segments include adhesives for consumers, artisans and building, industrial adhesives, beauty care and laundry and home care. It has operations in Western Europe, Eastern Europe, Africa/Middle East, North America, Latin America and Asia-Pacific. It also has its presence in North America as Henkel Corporation and is located in Connecticut, United States. The company's adhesives for consumers, artisans and building operating segment markets a range of brand name products for private users, artisans and the construction industry. The industrial adhesives segments include packaging and consumer goods adhesives, transport and metal, general industry, and electronics. The beauty care segment covers active branded consumer goods operating segment with hair care, hair colorants, hair styling, body care, skin care and oral care. The laundry and home care segment covers the activities of Henkel in laundry, and home care branded consumer goods.
Unilever NV/PLC
Establishment: 1929
Headquarter: London, United Kingdom
Website: https://www.unilever.com/
Unilever NV/PLC is a British multinational consumer goods company. Unilever segments include Personal Care, which primarily includes sales of skin care and hair care products, deodorants and oral care products; Foods, which primarily includes sales of soups, bouillons, sauces, snacks, mayonnaise, salad dressings and margarine; Home Care, which primarily includes sales of home care products, such as powders, liquids and capsules, soap bars and a range of cleaning products, and Refreshment, which primarily includes sales of ice cream and tea-based beverages. The company's geographical segments include Asia/AMET/RUB, The Americas and Europe. It operates in more than 100 countries, selling its products in more than 190 countries. The Company operates approximately 310 factories in over 70 countries with a network of over 400 warehouses globally.
Vi-Jon Laboratories Inc. (Berkshire Partners LLC)
Establishment: 1908
Headquarter: Missouri, United States
Website: https://www.vijon.com/
Vi-Jon has been owned by investment firm Berkshire Partners since 2006. Vi-Jon, Inc. manufactures personal care products. It offers mouth wash, denture cleansers, first aid, laxatives, skin, baby, hair, and sun care products. Vi-Jon serves customers in North America. This health and beauty care company makes such products as body washes, deodorants, lotions, mouthwashes, shampoos, and soaps. Vi-Jon also develops and markets its own brands, including Germ-X hand sanitizers and Inspector Hector oral care and hand soap products for children. The company's products are supplied nationwide to retailers, such as Kroger, Target, and Walgreens.
Gojo Industry Inc.
Establishment: 1946
Headquarter: Ohio, United States
Website: https://www.gojo.com/
GOJO Industries Inc. makes germ-fighting products for all types of environments. The company's product portfolio includes hand cleaning, hand sanitizing, skin care, and surface sprays under the GOJO, PURELL, and PROVON brand names. GOJO serves clients in a variety of industries, including automotive, education, foodservice, government, health care, lodging, and manufacturing. The company sells its products worldwide and has operations in Australia, Canada, France, Japan, Mexico, the UK, and the US. Privately held GOJO is named after its heavy-duty hand cleaner, which was formulated by co-founder Jerome Lippman.
Chattem Inc.
Establishment: 1879
Headquarter: St Chattanooga, Tennessee, United States
Website: http://chattem.com/
Chattem, Inc. is a subsidiary of the French multinational pharmaceutical company Sanofi. The company manufactures and markets health and beauty products, toiletries, proprietary drugs, fragrances, and dietary supplements. Chattem Inc markets personal care products and dietary supplements, including skin care and pain treatments such as Aspercreme, Cortizone-10, Icy Hot muscle pain reliever, and Pamprin menstrual symptom reliever. It also makes the Unisom sleep aid, medicated powder Gold Bond, hand sanitizer Gold Bond, Bullfrog sunscreen, Mudd clay-based facial masks, and Selsun Blue dandruff shampoo.
Kutol Products Company, Inc.
Establishment: 1912
Headquarter: Cincinnati, Ohio, United States
Website: https://www.kutol.com/
Kutol Products Company, Inc. is a privately-held manufacturer of cleaning products. It offers two distinct brands of skin care to the away-from-home market, namely Health Guard and Kutol Pro. Each of its brands serves a specific purpose and addresses the varying hand care needs of its customers. Health Guard is quality, effective hand care for the commercial market. It includes general-purpose hand soaps, luxury hand soaps, hand sanitizers, hair and body washes and specialty skin care products. All Health Guard products are made in the USA. On the other hand, the industrial, heavy-duty brand of hand care is Kutol Pro, which includes hand cleaners, scrubs, wipes and creams that effectively tackle the greasiest, dirtiest, hardest working hands. Kutol Pro removes most soils and stains in just one application, eliminating the need for repeat application.
3M Company, Inc.
Establishment: 1902
Headquarter: Minnesota, United States
Website: https://www.3m.com/
3M Company operates through four segments: Safety and Industrial; Transportation and Electronics; Health Care; and Consumer. The Company's Safety and Industrial segment consists of personal safety, industrial adhesives and tapes, abrasives, closure and masking systems, electrical markets, automotive aftermarket, and roofing granules. The Company's electrical offerings include infrastructure protection and renewable energy solutions. The Company's Transportation and Electronics segment consists of electronics, including display materials and systems, electronic materials solutions, automotive and aerospace, commercial solutions, advanced materials, and transportation safety. The Company's products and services provided include medical and surgical supplies, skin health and infection prevention products, oral care solutions, separation and purification sciences, health information systems and food safety products. The Company's Consumer segment serves consumers and consists of home improvement, stationery and office supplies, home care, and consumer health care.
About IMARC Group: IMARC Group is a leading market research and consulting company that offers management strategy and market research worldwide. The company has done multiple projects on the Italy and global hand sanitizer industry, which has enabled clients to set up and expand their businesses successfully. Some of the company's offerings include:
Market Research
Plant setup
Plant Expansion
Marketing and sales
Procurement and Distribution
Innovation and Product Development